Its that time of year again and the MET gala is here, aka the fashion industry's Oscars. A night when all the beautiful people get together and look well beautiful. Oh and this year they are celebrating Prada and Elsa Schiaparelli. All the guys and gals turned out in their best outfits so heres a run down of my top looks!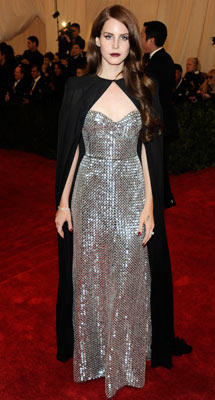 Lana Del Rey looks amazing in Altuzara.
I love the dark edge to her look. Hot yet spooky, like a sexy count dracula.
Her cape is something you'd expect to look rediculous but it looks amazing with her dark lipstick. Quite a few other ladies chose a dark lip and Lana pulls it off amazingly.
Her dress is perfect for her figure, who doesn't look good in an empire waist? but seriously ... gorgeous!
Jessica Alba you look lush in Michael Kors!!!
Her tanned skin looks perfect with this gold dress.
The diagonal neckline, the waist band, the full skirt... just lovely.
I like the darker tone to her hair. Loose waves give a sexy yet effortless look.
A simple gold bangle, clutch and dangly earrings add another notch of gorgeousness. Simple yet effective.
Another dark lip, very similar to Lana's.
Definitely thumbs up.
Erm just no!
Oh just lovely, so cute in this canary yellow Escada dress Emma Roberts!!
I love the peplum style and the navy belt adds a perfect touch to the simple and beautiful design.
Not so sure about the handbag, I think something smaller and less sparkly would have been better so it didn't distract from the gorgeousness of the dress.
Adorable hairdoo too.
Florence Welch... thank you for taking risks and wearing what you want.
Isn't fashion about making you smile?
I love this, I think it is so fun and outrageous!!!
Couldn't you just look at this Alexander McQueen dress all day, there is so much going on and those shoes so cute!!
Her hair is wonderfully styled, soft and sweet. I am loving braids right now.
Anja Rubik... better than Angelia Jolie's leg but seriously I would not be able to wear that.
Who hasn't had a dream where you forget to put your underwear on and then it becomes a nightmare... the thought of it makes me quiver!
It is a lovely hip but this type of dress is usually saved for those who feel they need to wear it to stand out... Anja would be gorgeous in a Sainsbury's carrier bag.
So my vote is a no on this I am afraid... next...
Kate Upton in Michael Kors.
I want to love this I really do but it just doesn't look like it fits her properly.
The hair and make up are ok. I like the red lippy, but I honestly think she would have looked better with a 40's style hair do a la Jean Harlow.
This girl looks amazing with the screen siren look.
I do like the style of the dress just not the best for her. Sorreeey
Wow this dress is so cute!
Karlie Kloss in a gorgeous pink Jason Wu number.
Now this I would wear. Sexy, Sophisticated, stylish and fun!
The pink lipstick is a great touch.
Not a fan of the green ring and earrings. Slightly confused with those, perhaps they are to match her green eyeshadow but still not a great idea!
I do like the shoes but something sexier and strappy would have finished off the outfit better.
Loving the lace though.
And how can you not love this??
Emma Stone in an amazing Lanvin dress.
Straight from the school prom, or so it looks.
Absolutely cute as a button!!
Gorgeous hair and makeup which do not take away from the dress and show off the neckline and straps.
A lovely little number.
Some more of my favourites...